LexJam - a WoodSongs Coffeehouse: 2019 News
March 9, 2019 - LexJam at Ranada's Bistro + Bar
Ranada's: Official LexJam Venue 2019
Posted March 10, 2019
By Rennie Neubecker
I don't know where to START . . . another OFF THE HOOK LexJam at Ranada's Bistro-- the Official Home of LexJam. Ranada's recreates the ol' Natasha's Cafe atmosphere.
Every musician brought their A-GAME as usual and the LexJam crew went above and beyond. Especially loading IN and OUT during the downpour of rain!
Front of House: Me and Matthew Florez
Stage Manager: Steve Zanone
Ground Crew Load In and Load Out and Support: Pat Cramer, Jan Stepka, Greg Rhodus, Steve Zanone
My Personal Manager that keeps me in line and remembers all the little things: My Beautiful Wife Kimberly Keith Neubecker
Website: Mark D McKinley (www.LexJam.com) and chief of our photography team.
Photography: The Amazing David H. McRae - co photographer. His work can be found over a wide area and in local restaurants.
The Entire Crew at Ranada's ... Thank You Ranada Riley! You're awesome.
Waitress for March LexJam: Catlin (*sp) who took care of the room. And amazing job, she did!
It takes this many people to make LexJam happen. This doesn't even mention the fact that everyone that shows up also helps keep our crew in line and helps wherever they can.
Sweeeeet!
- Rennie Neubecker
January 12, 2019 - LexJam 12th Anniversary
Twelve Continuous Years of Music Inspiration
Posted January 9, 2019
By Rennie Neubecker
Well How About That?!
Can you believe it's time for the 12th Anniversary of LexJam?
Yessiree Bob, or whomever.
We've all been at this together for 12 'nonstop' years now and I thank and love each and everyone of you for your contributions and help through the years. I remember how stressed I was 2 years ago getting ready for the BIG 10th anniversary show and how much fun it was when the big night finally came. The amount of awesome music. The camaraderie. The food. The fun. We are ready to do all that again and all we need is you to come to RANADA'S BISTRO this Saturday.
Starting at the normal 1:00 start time we plan on a full afternoon of music, food, libations and fun, just like every LexJam. Ranada is excited to have us and will have a great menu for the masses. Tell your friends and get ready. All ages. Can't wait to see you there and we also want to hear some of your stories of LexJams past. Come in. Get Warm. Play music.
If you can string it! Bring it! From solo artist to full bands. we are ready. If you plan on full band let Me know so he can help you get staged and ready to ensure a smooth flow of music.
See you Saturday!!!
- Rennie
Final Printing of 10th Anniversary T-Shirts
EXTRA!!! EXTRA!!! Read all About It!!!
Posted November 7, 2018
By Rennie Neubecker
Hey Everyone,
I have been asked a few times over the last year or so If any "10th Anniversary LexJam T-Shirts" were still available.
We will take pre-orders for a limited edition "LAST RUN" for anyone interested. After this, the file will be sealed permanently.
Let us know and we will send an order to the manufacturer once we have a sufficiant quantity to do so and at a reasonable price.
The cost will be $25.00 each. Remember, this will be the last run before we come out with a standard design soon.
Thanks,
Rennie
LexJam - March 2018
Thanks Everyone for Another Wonderful LexJam
Posted March 11, 2018
By Rennie Neubecker
I love my wife. She is our family's rock. I love my music. AND I love how many talented musicians came out to LexJam today. The entire LexJam crew (without I could not put on a show of this quality every month) I love you all. FOH Engineer: Matthew Florez, Ground Crew: Kimberly Neubecker, Larry Williams, Steve Zanone. Photographers: David H. McRae, and Mark D McKinley who also is our LexJam webmaster, keeping our website so classy. Our Director of Marketing: Dan Ward. John Kline for helping with loadout.
And every musician and music lover who came out today. Without you all, there would be no LexJam. Thank you so much. I love each and everyone of you. You know that though. Wow! What a day!
- Rennie Neubecker (Host / LexJam Team Leader)
LexJam Needs Your Help in 2018
For LexJam to Continue ON A MONTHLY BASIS
Posted January 20, 2018
By LexJam Team
Your Attention Please ...
WE NEED VOLUNTEERS FOR THESE POSITIONS:
* Dependable persons to help load and unload equipment.
** Dedicated and dependable Stage Manager.
LexJam's Team assures success and requires dedication, preparation and effort. Much is accomplished behind the scene before [and after] each LexJam. The LexJam Team appreciates the musicians, singers, full bands, and songwriters that attend each month.
* The LexJam Crew needs HELP: HEAVY LIFTING is necessary each month; The Loading and Unloading of stage gear, speakers, amplifiers and audio equipment requires some HELPING HANDS.
We NEED VOLUNTEERS that'll help EACH MONTH loading in AND loading out gear and equipment. This will include helping LOAD and UNLOAD the truck at our STORAGE location.
** The STAGE MANAGER works closely with performers and keeps the flow of music on track. It's about continuity - keep tabs on Signup Roster and assist with rotation of performers. Make certain the next artist in rotation has their instruments tuned and ready to take the stage during the last song of performer currently onstage. It's an important position and ensures each performer has stage time.
CONSIDER FOR A MOMENT:
LexJam is NOTHING without you! LexJam WON'T EXIST without you!
Rennie and the crew need a few dependable volunteers to help us out each month - individuals we can count on. It's rewarding to be involved [behind the scenes] of a successful event - it makes everyone's efforts worthwhile. We need a few more reliable individuals in order to assure LexJam continues.
GLIMPSE BEHIND THE CURTAIN:
Host Venue & Promotion Requirements; Team Leader (Rennie) updates and prints new LexJam posters. Creates the Face Book event page. Does the equipment check list for our host venue. Makes phone calls to reconfirm time & dates with current venue management.
Along with his other duties, Rennie coordinates crew members. Communicates with photographers. Coordinates with Webmaster on updates. Distributes monthly LexJam posters and provides much of the essential equipment.
A team of professional sound engineers handle all audio, amp, and monitor cables before and after each LexJam. Our LexJam crew assist the engineer with running cables, etc., when needed. LexJam is fortunate to have such dedicated and quality minded sound engineers monitoring the soundboard. Having pros at the helm assures that LexJam performers sound their best.
Our LexJam photographers handles special lighting needs, related equipment and gear. Responsible for setup and take down of lighting equipment, etc. Make certain a photographer is available to LexJam each month. The post-processing of their images and communication and delivery of final images to Webmaster.
CAN'T FORGET THE OBVIOUS:
Each month when LexJam is over, planning begins for next month's LexJam event; Find the next suitable venue during UK Sports season, along with the duties listed above. We appreciate everyone that attends LexJam -- the musicians, singers, full bands, songwriters and music enthusiasts. YOU, are LexJam!!!
if you'd like to volunteer.
* Put LexJam Volunteer in the subject box
We're looking forward to hearing from you.

- LexJam Team
LexJam 2018 @ Uncle 7's
First LexJam of 2018 - January 13th
Posted January 13, 2018
By Rennie Neubecker
What an amazing day at LexJam. I still need to mention all in attendance. There were a LOT of musicians that came thru the door at Uncle 7's on Saturday. Kenny, Justyn, Lindsey and the entire staff were grateful and can't wait for us to come back. We also have some other new opportunities coming as well. Stay tuned.
- Rennie Neubecker (Host / LexJam Team Leader)
LexJam - Wrapping Up 2017
December 16th, 2017
Posted December 17, 2017
By Rennie Neubecker
We have the Winners of the December 2017 LexJam Raffle. All winners have been notified. We started this quest in May. We raised a few bucks for LexJam. We raised a few bucks to buy additional prizes. We thought at the beginning, maybe two drawings. No. We were able to draw for NINE winners. First and foremost we want to thank Dan Ward (LexJam Director of Marketing), for coming up with this brilliant idea in the first place. Also the utmost of respect and thanks to David David M. McLean & SDML who provided the Grand prize of a Yamah a guitar, which was complemented with a new gig bag, 2 certificates for lessons and his support of LexJam and music in every fashion, everywhere.
Must thank the whole LexJam Crew and in particular Mark D McKinley for carrying LexJam on his back from the beginning -- our website www.lexjam.com, and being the lead photographer of our team of photographers. The amazing David H. McRae, John Walter Johnson, Dana Lynn Smith, Kay Foley and everyone else who has stepped up to photography duties over the years.
So you're saying get to the list.
A-n-n-n-n-d-d-d here it is in order of the draw;
Lisa Pollock - Music Stand
Steve Zanone - 25.00 Guitar Center Gift Card
Charles Berry (sp) - 8 Weeks Guitar Lessons from SDML
Steve Zanone - Estaban Amp
Kim Reeves - Guitar String Bracelet (crafted by Meg Boden)
Sam Pollock - 25.00 Guitar Center Gift Card
Marcie Timmerman - * Weeks Guitar Lessons from SDML
Catherine Jydstrup - 50.00 Guitar Center Gift Card
Grand Prize winner ...
Craig Hagan - Guitar With Gig Bag
Congrats to all our winners and we hope you put these spoils to good use. Make music!
Stay tuned for your next LexJam.
Your Humble Host,
Rennie Neubecker
LexJam 10th Anniversary - Ten Years of Music and Fun
January 14th, 2017 - 7PM at Willie's Locally Known
Posted January 13, 2017
By Rennie Neubecker
(January 13, 2017) - Hello ... Hooray ... Let the show begin! I've been ready. Its time for your 10th Anniversary of LexJam, a WoodSongs Coffeehouse. Can you believe we have been at this for TEN years?
[Ten years] nonstop!
Come celebrate with us as we showcase some of the finest musicians to grace the various venues of LexJam, and once upon a time, LexJam II Unplugged. We're excited. We're looking to represent a cross section of 10 years of LexJam. We'll have stories and antidote's gathered from all of those years of fun.
We'll have special edition LexJam Tee Shirts for sale. LexJam is an all volunteer run event and survives solely on tips. Your tips provide ink and paper for posters, stage and street banners, and the special edition Tee Shirts for the 10th anniversary event.
'Willies Locally Known' has a full selection of libations for children and adults, plus some of the finest BBQ East O Da Pecos.
This LexJam will be much different than our regular sessions, as most of the show will be scripted. Having said that, scheduling is being worked on for the showcase part of this "Special LexJam" and we "hope" to be able to put names in a hat for our LexJammers who may not be in the first part of the show, but still want a chance to play at this historic event.
It's been brought to my attention that I wasn't clear enough about details for this months' LexJam. This month will be more of a show. There will be a drawing later in the evening for at least four random LexJammers to play an 8 to 10 minute set.
It's been very difficult to [select and] represent 'ten years' of LexJam in one evening. I've tried to put together the best "cross section" of music from the past ten years that represent LexJam. Remember, this won't be a normal LexJam. There will be no sign-in sheet this month. I've lost a lot of sleep trying to come up with a special show to celebrate the ten years we have been doing this. We could easily fill ten hours of music but we're not allotted that much time.
I want everyone that has been a part of LexJam to be there regardless. I want you to show support for all the musicians that have been part of LexJam over the years. The only fair way I could think of to give every one a fair chance is to do the hat draw at the end. We're trying to represent ten years. That's a lot [of music].
Tell your friends and neighbors. Hope to see you there,
Your Humble Host,
Rennie Neubecker
LexJam - Rollin' with the Changes
July's Packed House Debut at Willie's Locally Known
Posted August 11, 2016
By Team LexJam
(August 11, 2016) - Based on last month's phenomenal debut at Willie's Locally Known, we've made a slight adjustment in the number of time slots. We want every singer and musician to be able to perform on the LexJam stage. Afterall, you ARE LexJam!
Based on a typical month there'll be 20 open slots onstage with 3 alternative slots to ensure we don't go beyond our allotted time ... too much. Some months everyone will have time to perform three songs. Some months, a two song cut off might be required. You're welcome to rotate back onstage when time permits.
LexJam is an open singer/songwriter/jam venue. There aren't many aspects of LexJam that are written in stone. We're flexible. Monthly decisions often have to be made on the fly. Our mission is simple -- make sure every musician and singer knows how much we appreciate them.
Clear your calendars for January 14, 2017 and help us celebrate ten years of LexJam. January is going to be special. Stay tuned.
Regional singers and musicians provide the beat that gives LexJam its pulse. Thank You!
- LexJam Team
LexJam at Willie's Locally Known
Success - Thank You, Everyone!!!
Posted July 9, 2016
By Rennie Neubecker - LexJam Host
(July 9, 2016) - I don't know where to start . . . You all . . . all of you awesome musicians and music lovers [that came out] to support LexJam today. Definitely in the top five all time (nearly 10 years) and quite possibly the second biggest LexJam ever. On the anniversary of the biggest LexJam ever -- last July had thirty three signed musicians. I am humbled.
The sound was spectacular. Thank you, Matthew Florez. Our awesome photographers, Mark D McKinley and Mr. David H. McRae. Mark has also been LexJam's webmaster from the very start. My ground crew, Kimberly Neubecker, Brian Casey Williams and Larry Williams, who is also the stage manager. Kay Foley shooting video. Wilson Sebastian and the entire Willies Locally Known crew . . . Thank You!
Your LexJam Host/Emcee
Rennie Neubecker
LexJam Comes Full Circle After Months on the Road
LexJam Debuts at Willie's Locally Known
Posted July 9, 2016
By Mark McKinley - LexJam Team
(July 9, 2016) - PREFACE: LexJam is forever grateful for the many years Natasha's Bistro & Bar hosted our venue. The memories will last a lifetime.
When Natasha's Bistro announced it was closing their doors for good in November of 2015 LexJam began talks with other regional venue about hosting the monthly open community jam series. Determine to keep LexJam moving forward, host Rennie Neubecker and all voluntary crew took LexJam "On the Road" for several months. Regional support for LexJam grew stronger as the months rolled on. The decision to take "LexJam On the Road" proved an enormous success. The music community not only embraced the challenge ... monthly attendance and musician participation increased!
There's no way to express in words how much your support is appreciated by everyone involved. We especially want to thank the venues that graciously hosted ... "LexJam On the Road."
Sundowner's - 628 Delzan Plaza, Lexington, KY 40503
S-E-C Sports Pub - 4379 Harrodsburg Road, Lexington, KY 40502
O'Neill's - Idle Hour Shopping Center, 2051 Richmond Road, Lexington, KY 40502
July 9, 2016 LexJam made its debut at the new Willie's Locally Known on Southland Drive in Lexington, KY. Thirty three musicans signed the LexJam roster and performed on the LexJam stage to a packed house.
- LexJam Team
2016 Lexington Music Awards
Community Service Award Winner: Rennie Neubecker
Posted February 1, 2016
January 31, 2016 - Congratulations to LexJam Host / Team Leader, Rennie Neubecker -- winner of the Lexi Community Service Award! The second annual Lexington Music Awards was held January 31, 2016 in downtown Lexington, Kentucky at the historic Lyric Theater. A packed house of musicians, singers, engineers, producers, and music enthusiasts enjoyed a memorable evening of fine music and Lexi Award presentations. Emcees for the ceremonies were Bill Meck and Angie Beavin. New for this years' event was the addition of live music during the presentations provided by The Twiggenburys.
The Lexington Music Awards was founded in 2015 by Skinny Devil Music Lab owner, David M. McLean. LexJam would like to thank David for his incredible support of regional musicians. His contributions to music extend far beyond Lexington, Kentucky ... as his talents and teaching methods are highly respected across the country.
We wish to express our congratulations to all 2016 Lexi Award recipients.
LexJam Team
Natasha's Bistro Closed on November 2, 2015
LexJam in Transition
Posted November 2, 2015
By Rennie Neubecker - LexJam Host & Team Leader
November 2, 2015 - As most of you are aware by now, Lexington's premiere listening room and sound stage Natasha's Bistro have closed their doors. This news hits the City of Lexington hard and particularly the music community our town so proudly supports. As you can imagine, I have been bombarded with questions about the closing and how this will affect LexJam. Will LexJam fold? Will LexJam continue? You need not worry. LexJam shall continue. LexJam was held at various locations around town before finding its permanent home at Natasha's - we're well established in the community.

With a core group of talent and many new faces each month, I've all the confidence in the world that LexJam will continue to draw nice crowds and continue its role in the music scene. Our thriving music community would have it no other way. Whether you're reading this statement on the LexJam website @ www.lexjam.com, or on LexJam's Facebook page, please check back to find out where our next LexJam will be held.

I accept the challenge this occurrence presents to further enhance LexJam's impact on the community and the hopes and dreams of our fine musicians - to strengthen LexJam as the longest running 'open mic' and 'talent showcase' in the region. Please don't hesitate to contact me personally with any ideas or concerns you may have. We will keep you updated as information becomes available.

Thank You,

Your LexJam Host/Emcee

Rennie Neubecker
Phenomenal July 13th 2013 LexJam!
Thirty-two musicians sign up on the LexJam roster
Posted July 16, 2013
By Rennie Neubecker - LexJam Team Leader
phe·nom·e·nal (adjective)
1. Very remarkable; extraordinary.
2. Perceptible by the senses or through immediate experience.
Synonyms
extraordinary - uncommphe·nom·e·nal (adjective)
1. Very remarkable; extraordinary.
2. Perceptible by the senses or through immediate experience.
extraordinary - uncommon
This only begins to describe todays LexJam - Nothing short of Phenomenal.
Thirty-two. Yes, thirty-two signed musicians for todays LexJam / LexJam Acoustic Cafe. This is normally a November, January, February, type LexJam. Awesomeness. Every type of instrument was there. Electric. Acoustic. We had it all. But you know, the most important thing to me was ... having our old school LexJam Jamily in the house today ... each and every one of you who came out today!
- Rennie Neubecker (LexJam Acoustic Cafe Team Leader)
Welcome to LexJam!
The Evolution of LexJam Acoustic Cafe / WoodSongs Coffeehouse Affiliate
Posted June 30, 2013
By Mark McKinley - Team LexJam
The Evolution of LexJam Acoustic Cafe & WoodSongs Coffeehouse
The LexJam performance stage provides a unique opportunity for the community. There isn't a more attentive stage in the city to test new material on an audience, or to try a new arrangement of an old song on a different instrument. The possibilities for unique music and performance each month at LexJam are endless. LexJam has inspired many musicians to reunite with their once cherished instruments and reinvent their musical vocabularies. LexJam continues to encourage musicians, young and old, to stay on track and to keep practicing. Several veteran LexJammers have taken their music to the next level - recording in the studio, numerous CD release parties, and now performing throughout the region [and beyond] on a regular basis.
LexJam is a reminder that good things can happen when a couple of folks get together for coffee to discuss starting a community-based monthly jam session. In the latter part of 2006, Tom Martin and Mike Thompson got together over coffee and envisioned just that, a music venue for musicians of all ages and skill levels. LexJam was born on January 6, 2007, and held its first open jam session downtown at Lexington Center. On January 12, 2013, LexJam celebrated its sixth year anniversary with a packed house at Natasha's Bistro!
During the first couple of years LexJam experienced growing pains often associated with charting new territory, however, the spry young venue was determined to discover its niche in the community. Moments of impromptu musical magic happened in the early years when horn players, guitarists, pianists, drummers, bass players, and singers casually strolled onto the LexJam stage. One such instance featured an acoustic set with master fingerstyle guitarist Jerry Belsak, backed by an elaborate "jam" orchestra consisting of strings, piano, horns, and any other musical instrument that happened to appear on the stage. The extended spontaneous set was nothing less than incredible and remains to this day, etched in the minds of all that attended LexJam that Saturday afternoon.
It was quite common in the early years for a momentary spectator to sit down at the grand piano, or occupy the drum throne for a song or two. After each of those unplanned sets found closure, brief introductions were made, accompanied with hand shakes and earnest grins - an exchange of kind words between strangers. It appeared as though the infant music venue had found its compass heading - LexJam seemed to have found its North!
Continual scheduling conflicts and other circumstances soon forced LexJam to migrate away from Lexington Center to several other locations in search of more amiable terrain. Change became the norm as the young performance venue struggled to find a place that would host LexJam for an extended period of time. LexJam desperately needed a sturdy foundation to setup camp - a permanent post where a gathering of spontaneity could hitch its talents to. After a series of tweaks and adjustments, the venue rolled along in determination - frequently having to break camp at a moments notice. LexJam endured those storms and enthusiasm for the concept remained strong. LexJam's mission required stability in order to become the viable spring board it had hoped to become for local and regional music development. Since the inception of the venue, LexJam has occupied Lexington Center, Arts Place, the Manchester Distillery District and Annette's City Cafe, before finding a home base at Natasha's Bistro on Esplanade.
Meanwhile, singer/songwriter Rennie Neubecker had been negotiating with the venue's co-founders about starting a spin-off [all acoustic] version of LexJam. LexJam II made its debut in April of 2008 downtown at Lexington Center. Rennie had assembled a core group of acoustic musicians that embarked on writing a new chapter for the LexJam saga. The two LexJam venues worked together to coordinate their event calendars [as best they could] to not infringe upon the flow of musicians to either venue.
Collaborative efforts and the passion that fueled original LexJam in the early days began to lose momentum toward the end of 2010. The lives of many folks that had been involved with LexJam throughout the years had become busier - it had become increasingly difficult for some of them to balance their jobs, music, life and LexJam. In some instances it was actually LexJam to blame for their shortage of available time. LexJam had quietly become a success [behind the scenes] for a few of the regulars. LexJam had inspired and rejuvenated several musicians through the formation of several new Lexington-based bands!
January 2011 was a moment of truth for the electric oriented full band version of original LexJam. It was time for a reality check - a bitter-sweet milestone. LexJam had achieved one of its prime goals of inspiring and energizing the music scene in Lexington, Kentucky. Along with that moment of realization, one question remained unanswered - where does the LexJam venue go from here?
For the past two years Rennie Neubecker's all acoustic edition of LexJam had experienced moderate growth and interest to continue the LexJam venue remained. Co-founder Tom Martin handed the LexJam reigns over to Rennie Neubecker. The change in format and leadership was a successful decision and proved vital in keeping the LexJam venue alive.
LexJam has established itself as a safe, viable venue for all ages - singers, songwriters and musicians of all skill levels feel comfortable sharing the stage. It makes no difference whether your music genre is best performed electric or acoustic, LexJam is a great venue to share your talents and network with like-minded folks.
It was a chilly mid winter morning in 2011 when folksinger Michael Johnathon strolled into LexJam ... carrying a banjo. He was cordially greeted and welcomed to the LexJam venue - and forgiven for bringing a banjo. Johnathon has visited the venue many times, often performing new material and occasionally bringing guest musicians. Perhaps what he enjoys most is blending into the cozy atmosphere of LexJam, watching and listening to the regional talents that capture the LexJam stage each month. In August 2011 LexJam further increased its exposure by partnering with Michael Johnathon's global network of hometown music venues and became a WoodSongs Coffeehouse affiliate.
LexJam host/coordinator/team leader/emcee/singer/songwriter/musician Rennie Neubecker continues LexJam's concept of community involvement and provides a cozy family friendly venue for performance and networking for local and regional musicians. LexJam and other venues like WoodSongs Coffeehouse affiliates continue to enrich the music scene in and around Lexington, Kentucky ... around the country ... and, around the world.
LexJam's mission remains intact - to encourage our young [and older] musical talents - provide a comfortable family friendly atmosphere, both onstage and offstage. LexJam continues to thrive, navigating music landscapes and discovering uncharted musical terrains. Without the support of our regional musicians, singers, and music enthusiasts, LexJam couldn't exist. LexJam is empowered by community participation - our sponsors, numerous volunteers, and of course, the music community. "Thank You" to everyone that has been a part of LexJam throughout the years. You, are the ones that make LexJam happen!
- Mark McKinley (LexJam Team)
New WoodSongs Coffeehouse Debut:
January 24th - at O'Neill's on Richmond Road! "Hosted by John Yannelli"
Posted January 19, 2013
By Team LexJam
(January 19, 2013) Host John Yannelli debuts "WoodSongs Coffeehouse Singer-Songwriter Night" at O'Neill's on 2051 Richmond Road Lexington, Kentucky 40502 in Idle Hour Center. Thursday January 24th from 7:30 to 9:30 - an open mic performance/jam immediately follows. Opening performances by Jesse Taylor, Rennie Neubecker, Grover Mollineaux, and John Yannelli. Support live music in Lexington!
- LexJam Team
Lexington Humane Society Fundraiser:
Nov. 10th - Join us for this Special Edition LexJam Acoustic Cafe!
"All donations from this event benefit the Lexington Humane Society"
By Team LexJam
Top needs of the Lexington Humane Society include [canned, wet] cat and dog food (all brands), dog treats and Kong (super-durable) dog toys.
Join us and help our furry friends - enjoy an afternoon of quality music and fun!
Where: Natasha's Cafe, 112 Esplanade - Lexington, KY
When: 11am - 3pm Saturday, Nov. 10, 2012
Bring: [canned, wet] cat & dog food (all brands), dog treats, super-durable dog toys
Thank you for thinking of our animals!
Lexington Humane Society / LexJam Team
"All donations from this event benefit the Lexington Humane Society"
LexJam and the Personal Importance of Music
Posted January 06, 2012
By Brian Powers - LexJam Supporter
A quick testimonial on LexJam and the personal importance of music -
I don't know if anyone knows this, but TODAY is the 5-year-anniversary of the first LexJam. I know there are plenty of new LexJammers who have no idea who I am because I've dropped off the LexJam radar in the last year or so, but I did want to take a minute to pay tribute.
Five years ago today, I walked into the first open community jam in Lexington at the Civic Center, and it changed my life. Now, that's a pretty bold statement. A community jam session? Changing a life? We all exaggerate a little now and then, but come on... It is, however, true. At that point in my life, I had literally played music with a group once in the preceding six years. I had given up on music as a driving force in my life, and I was resigned to let it fade slowly away as a minor hobby or something I did in college. I had also been unable to really connect with anyone here after moving from Florida, and had mostly written Kentucky off as a bad idea. When I walked into the first LexJam, I was nervous, self-conscious, miserable, rusty and a little skeptical, but reluctantly hopeful. Within a week, I was asked to join another jam. Within a year, I was in a band.
Five years from that start, I've just joined my sixth band. I've cut two albums, played more shows than I can count (and hit almost every venue in Lexington), and 2011 was a more successful year financially from music for me than every other year of playing combined. I can trace at least 75 of my Facebook friends directly to connections made at LexJam. One of my current jobs is the direct result of one of these connections, but it isn't the first time I've had job opportunities as a result of connections made through LexJam. Heck, if I hadn't come to that first LexJam, I never would've met my girlfriend, who is a direct result of my LexJam musical connections. Since the start of LexJam, I've gone through a divorce, financial meltdown, and plenty of drama, but I haven't had to pay single cent for therapy, anti-depressants or the like. I can trace all the things that make me happy in my life right now (with the sole exception of my daughter) all back to a single a day in January of 2007. LexJam gave me music again, and music has made Lexington my community and Kentucky my home.
So if I've been a little too busy to hit LexJam for a while, I apologize - I've got three bands right now, a good second job, a great girlfriend, and a wonderful cause (LAMA). And I blame LexJam for all of them. Since LexJam isn't an entity in a vacuum, it's the people who deserve thanks - Mike Thompson for co-founding it, Rennie Neubecker for keeping the dream alive and making it what it is today, Gene Williams and Arthur Shechet for giving it a permanent home, and last - and most definitely not least - to Tom Martin for co-founding it, for driving it, for instilling LexJam - and Lexington music as a whole - with such a strong heartbeat. I think someday we'll all recognize Tom as the godfather of Lexington music, and that's a legacy to be proud of.
Happy Birthday, LexJam.
Brian Powers (LexJam supporter)
LexJam Acoustic Cafe: Nov. 12th - A Gathering of Artists and Supporters!
Posted November 17, 2011
By Rennie Neubecker - LexJam Host
Ok here goes... HUGE Thanks to our musicians Saturday [November 12], Jamie, Fred, Kayla, Lisa, John, Tim, Anna, Thomas, Maya, Grover, Taylor, Sara, Julia, Slim, Serena, Chris, Kevin, Miriam, and Syd for showing her support. A fine cast of fans and listeners, that included Rick, Ann, Alice, Connie, Bill, Tony, Leah, Susan, Nancy, Fred, Jennifer (should be playing, hint, hint), JENNY, And everyone else, which is far too many to call out here. Well, mostly 'cause I don't know or remember their names.
And last, but really 1st... because this is what they do to help bring LexJam to you each month. The LexJam crew: Terry Poirier, house engineer. Eric Hutchens, Stage Manager and assistant front of house. Upsorn Hutchens, today's official LexJam photographer. Mark McKinley Lead photographer and LexJam webmaster. Woodsongs for including us as an official "WoodSong's Coffee House" event. Natasha and Gene Williams and Art Shechet, owners of Natasha's Bistro. They give us a place to practice our craft and play with our toy's one Saturday each month. Allison for doing such a great job waiting the tables. We know you earned you money today! The "waiter" (I don't know his name, but since I'm calling everyone out, he deserves to be recognized, too). If I missed ANYONE... PLEASE bring it to my attention.
Everyone in that building Saturday, contributed!
- Rennie Neubecker (Host, LexJam Acoustic Cafe)
LexJam: Part of a world-wide network of music lovers!
Posted August 13, 2011
By Rennie Neubecker - LexJam Host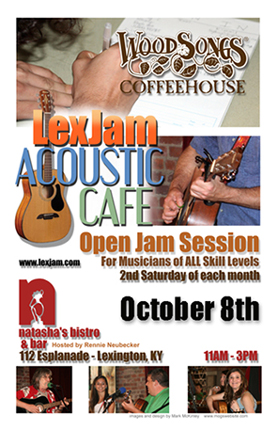 "Hey everyone…You know you wanna... You know you need to. It's time to put off the lawn 'till Sunday, get out of the house and head downtown to the ONE... the ONLY... LexJam/LexJam Acoustic Cafe! Come down, have lunch and join us for an afternoon of great musical talent. We have them all from 7 to 70. Musicians of all types showing you what they have. Bring your instrument, bring your voice, bring your family, bring your Mother-in Law. Heck, we'll even let you bring your banjo (Michael).
This month we celebrate our new found membership as an official WoodSongs Coffeehouse affiliate/partner. We are excited about becoming part of this worldwide, (I see there is one in Germany), network of like minded individuals who love to play, listen, encourage and promote music in their hometown as a way to bring together community and people. So again, please join us as we take the next big step with LexJam. Always the second Saturday of the month. Always @ Natasha's.
Next LexJam: Saturday, October 8th. 11:00am 'til 3:00pm, or a tad later.
Hope to see you there! - Rennie Neubecker
LexJam - WoodSongs Coffeehouse Affiliation
Posted August 09, 2011
By Michael Johnathon
- WoodSongs Old-Time Radio Hour
WoodSongs.com
LexJam is now the official WoodSongs Coffeehouse in Lexington!
"Welcome Rennie Neubecker and crew, you do a great job at Natasha's the second Saturday morning of every month. If you play, sing or listen, the fun starts this Saturday morning, August 13, 2011. FREE for fans and families."
- Michael Johnathon (WoodSongs Old-Time Radio Hour)
"On behalf of all LexJammers, a BIG thanks to Michael Johnathon [for noticing what we've been doing] and for his loyal support of LexJam. Just to clear things up a bit, a few folks have asked me if the LexJam / Woodsongs Coffeehouse [affiliation] is a new venue or something. The answer is no. It's still LexJam Acoustic Cafe at Natasha's Bistro, second Saturday of each month. I'll fill everyone in on all the details at LexJam this Saturday, August 13, 2011."
- Rennie Neubecker (Host, LexJam Acoustic Cafe)
LexJam, Opportunities, Facebook, and the World Wide Web
Posted July 17, 2011
By Mark McKinley - LexJam Team
Greetings LexJammers!
Rennie Neubecker hinted during the July 9th LexJam session that LexJam may soon evolve into a partnership that will provide the venue with greater recognition and promotion. LexJam isn't going to change - we welcome this new opportunity to breathe!
LexJam seems to be headed in the right direction - on track! Slow, steady growth is usually an indication of strength and stability. LexJam is about music. People. It's about connecting. Good times. It's about expanding your network of friends, and your music. LexJam is about opportunity. Did I mention, fun?
Facebook has been a temendous tool for the music community and the LexJam venue - so many neat Facebook 'Music Pages' are finding their place on the web! Well, fear not... LexJam plans to provide further reinforcement to your personal music pages, as well as... limited video presentation from the LexJam website.
Patience is the key! These things do take time. In the coming months, we hope to have a section [sitting at the ready] to showcase some of your YouTube performance videos on the LexJam website. This will add one more place for the world to discover... YOUR music! :]
Rennie Neubecker will be posting additional info soon, so visit the LexJam News page for updates!
- Mark McKinley (LexJam Team)
LexJam Acoustic Cafe Brunch at Natasha's Bistro
Posted January 12, 2011
By LexJam Team
The LexJam Team has been overwhelmed by musicians and community support the past few years. "Thank You Lexington and surrounding communities!"
LexJam is committed to providing our community a monthly venue where musicians of all ages and skill levels can gather for fellowship, performance and networking in a family friendly environment. Help us spread the word about LexJam and invite your friends! Our website is undergoing a few changes to improve site navigation-- we appreciate your patience during the transformation.

We'll be updating the LexJam News page soon. In the meantime... join us at Natasha's Bistro on the second Saturday of each month!
- LexJam Team