Damon Farmer - Artist/Sculptor
Sand Sculptor ~ Painter ~ Designer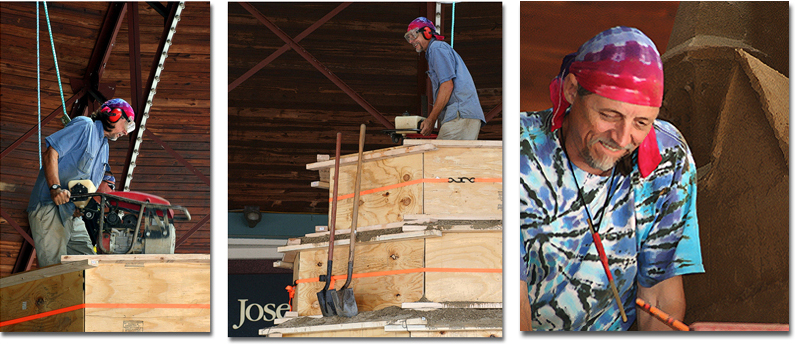 Photos by Mark D McKinley
(October, 2010) - Kentucky artist Damon Farmer is a multi-talented artist whose creations have inspired and delighted audiences around the world. He is the owner of Shadetree Studios in Versailles, Kentucky. During Lexington's 2000 Horsemania street art event, his decorated entry (Stonewall) brought $53,000 at the event's charitable auction. In addition to being a sculptor, painter, theatrical props, set, and costume designer, Farmer is also a world renowned champion sand sculptor. With those credentials it is no mystery why Farmer was commissioned to carve a 100 ton sand sculpture in Lexington, Kentucky. The finished sculpture will commemorate equestrian and music events surrounding the 2010 World Equestrian Games in Lexington, Kentucky - hosted for the first time in the United States of America.
Preparation for the sculpting process began with construction of numerous 2 foot by 4 foot reinforced wooden panels assembled on site at the Lexington Green Mall complex - the wooden forms would eventually hold 100 tons of loose sand. After two days of hard labor, the rough-formed wooden structure contained an eighteen foot high mound of highly compressed sand. Water was added throughout the piling process as sand was strategically dumped into the forms at approximately eight inch depth intervals. Heavy gas-powered tampers were used each step along the way to further compress the sand. Construction and preparation for the huge sculpture at the Lexington Green Mall complex began on September 23, 2010 - Farmer began the actual carving process on September 25th (opening day of the 2010 World Equestrian Games). Sand sculpting is a fascinating artform to experience as a spectator - it is truly art in motion.
- Mark D McKinley [mogswebsite.com]
The Interview
Photos by Mark D McKinley
mogswebsite.com: Provide some background on Shadetree Studio.
Damon Farmer:
I have worked as
Shadetree Studio
since 1977, originally focusing on cel animation, then mainly computer animation, and now mainly sand sculpture. I have always worked in a variety of mediums. They tend to enrich each other.
mogswebsite.com: Does Shadetree Studio offer art lessons of any kind?
Damon Farmer: I do offer acrylic painting lessons. I have a great forested location here for 'plein air' nature painting. I also sometimes visit schools for sand workshops.
mogswebsite.com: Tell me about your theatrical and museum set design services.
Damon Farmer: My wife, Beth Kirchner, runs the Woodford County Theatre and is responsible for my involvement in theatrical arts. Most of my theater work has been for that group. I have been involved in most of their productions since 1995, sometimes just as a scenic painter, but sometimes I design an entire production.
I haven't had occasion to do any museum work for a while.
mogswebsite.com:
Having attended one of her productions, your wife, Beth Kirchner, does an incredible job as director of the
Woodford County Theatre
. In addition to the theater work you have done, what is the most unusual opportunity you have had in terms of designing a museum display?
Damon Farmer: I designed an Egyptian themed exhibit for what is now called the Louisville Science Center. It had a wide variety of painted, sculpted and cast elements, all designed around an actual Egyptian mummy.
mogswebsite.com: Let's explore the genre of sand sculpturing - what is the best grade of sand for sculpturing?
Damon Farmer: Sand is different everywhere, and there is no universal grading system. Fine and silty sand tends to be best. A good test is to squeeze a wet fistfull into a ball. If the ball stays together when you give it a slight toss and catch it, it's pretty good stuff.
Photos by Mark D McKinley
mogswebsite.com: You create sand sculptures around the world - how difficult is it to find quality sand for your sculptures?
Damon Farmer: It can be a challenge. Typically I contact nearby quarries, explain the qualities I need, and request they send me small samples. As described in the last question, it only takes a handful to test the quality.
mogswebsite.com: Creating temporary art such as a sand sculpture is as much about the process as it is about the end result - explain how it feels to begin the subtraction process.
Damon Farmer: Beginning a sand sculpture is called 'blocking out'. At that point, the absolute perfect sculpture is contained within the oversize shape. The challenge is to then find that one perfect form as nearly as possible to the perfect.
mogswebsite.com: What is the largest sand sculpture you have made - what was the event - how long did the process take from start to finish?
Damon Farmer: I think the largest one I ever did was a giant display in China. It was at least 30 feet tall. I spent about two weeks on it, with a lot of Chinese assistants that I worked with through an interpreter.
mogswebsite.com: What is the record lifespan for one of your sand structures?
Damon Farmer: About two months, but practically all my sculptures have a predetermined lifespan due to an event duration. That is, they could last longer but are removed because the client's event has ended.
mogswebsite.com: Are there any unique tools that you use when carving a sculpture?
Damon Farmer: Sand carving tools are pretty exclusively derived from tools made for other uses. A very standard tool is a cake icing spatula. Similar to a painter's palatte knive, but heavier. A variety of trowel sizes are used, and beyond the largest trowel, a shovel typically begins the process of roughing out the shape. The most unique universal sand tool is jokingly called the Self-Powered Pneumatic Particle Extraction Device. It's actually just a straw, but it's a very handy tool. We use it to blow away the small amounts of sand that would be too difficult or time-consuming to remove with a carving tool.
Photos by Mark D McKinley
mogswebsite.com: Describe a sand sculpture as music - what genre would it be today?
Damon Farmer: Sand sculpture's similarity to music is that they are both performance arts, enriching those who are there to see/hear their creation, and then they're gone, leaving only the visual/auditory memory. Sand has the same wide range of expression that music has, and versions to compare to each genre. For instance, I would describe an abstract sculpture as being like jazz, etc.
mogswebsite.com: I find the art of M.C. Escher and Salvador Dali intriquing - they distort our perception of reality - who are the artists that have inspired you the most and why?
Damon Farmer: My sand sculptures are usually illustration. A captured moment that tells a story. I admire classic illustrators like Howard Pyle and N.C. Wyeth. Artists who raise illustration to art.
mogswebsite.com: It has been fascinating to watch your sculpture at the Lexington Green complex transform hour by hour and day by day. Thank you for the opportunity to explore your world of art!
Damon Farmer: It is always my pleasure to share my art form.
(C) 2011 mogswebsite.com
MOGS INTERVIEWS SPONSORED BY