Singer/Musician Norah Jones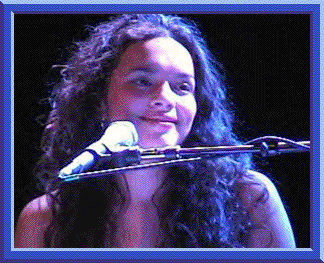 PHOTOGRAPH BY:
(December, 2004) -- Norah Jones' contributions to the textures of music will be respected and embraced for years to come. Her 2002 Debut CD Come Away With Me sparked further enjoyment with each listen. The artistry of Norah Jones will undoubtedly stand the test of time and serve as inspiration to future generations.
Special thanks to ___________, Norah's artist management, for her help in arranging this interview.
-Mark D McKinley [Mark's Online Music Source]
The Interview
Mogswebsite.com: Having studied music at an early age, then several years later sharing your music in small club venues -- what thoughts ran through your mind when you signed your record deal with Blue Note?
Norah Jones:
Mogswebsite.com: There have been some rather unusual collaborations that paired artists from different styles, for example, duets between Elvis Costello and Burt Bacharach. You have made contributions to various other artists' projects -- given the opportunity to collaborate with artists with differing styles -- what have you discovered about yourself as a result of those projects?
Norah Jones:
Mogswebsite.com: What do you strive to contribute to such collaborations?
Norah Jones:
Mogswebsite.com: Whether you're writing a new song or working on an arrangement of an old standard, what time of day do you feel most inspired?
Norah Jones:
Mogswebsite.com: Would you be willing to share your sentiments by offering a visual expression of music for my next question?
Norah Jones:
Mogswebsite.com: You've reached the finale of an extensive performance in front of thousands of fans. The crowd expresses itself in a way that you want to perform an encore for them. Using words as your paintbrush, what are the colors and textures of the musical canvas you wish to offer them?
Norah Jones:
Mogswebsite.com: If you were asked to make a departure from the more traditional instruments that accompany your music during a recording, or a live performance, what instrument(s) would you incorporate into the band? What element would you be looking for with the addition of that instrument?
Norah Jones:
Mogswebsite.com: Twelve years ago, a young musician by the name of Mark Whitfield arrived on the jazz scene. His exuberance and enthusiasm for performing was awe inspiring, not to mention his enthusiasm for the musicians that accompanied him when touring.
As a recent arrival on the music scene, how important is it to you to further encourage and inspire the musicians traveling with you?
Norah Jones:
Mogswebsite.com: With Cold Cold Heart being the third song on Come Away With Me, has Hank Williams, Sr.'s music influenced you, or was the song simply included on it's own merit?
Norah Jones:
Mogswebsite.com: Come Away With Me, released in February of 2002, has been well received by the public as well as the music community. When might we expect your next release?
Norah Jones:
Mogswebsite.com: Were you encouraged by the reception you received during your recent tour in Europe?
Norah Jones:
Mogswebsite.com: I've enjoyed this opportunity to share our thoughts on music as it relates to your career. I'd like to thank you and your staff for making this interview possible.
Before we end the interview, is there anything you're especially passionate about and would like to share with our readers that hasn't been touched on during this interview?
Norah Jones:
Mogswebsite.com: I wish you all the best in what the future holds for you. I would also like to invite you to return, a few years down the road, and share with us more thoughts on your music.
Norah Jones:
(C) 2002 Mark's Online Music Source
MOGS INTERVIEWS SPONSORED BY
*Above photography taken by -